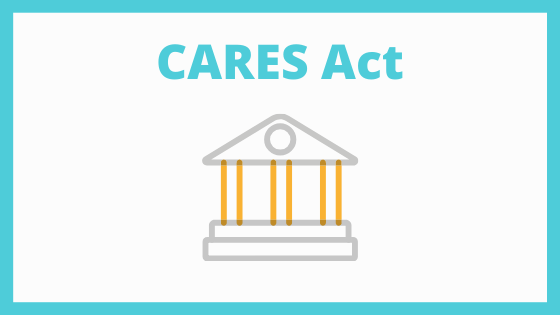 On Friday, March 27, 2020, the Coronavirus Aid, Relief, and Economic Security (CARES) Act was signed into law. This $2 trillion emergency relief package is intended to assist individuals and businesses during the ongoing coronavirus pandemic and accompanying economic crisis. Major relief provisions are summarized here.
UNEMPLOYMENT PROVISIONS
The legislation provides for:
An additional $600 weekly benefit to those collecting unemployment benefits, through July 31, 2020
An additional 13 weeks of federally funded unemployment benefits, through the end of 2020, for individuals who exhaust their state unemployment benefits
Targeted federal reimbursement of state unemployment compensation designed to eliminate state one-week delays in providing benefits
Unemployment benefits through 2020 for many who would not otherwise qualify, including independent contractors and part-time workers
RECOVERY REBATES
Most individuals will receive a direct payment from the federal government. Technically a 2020 refundable income tax credit, the rebate amount will be calculated based on 2019 tax returns filed (2018 returns in cases where a 2019 return hasn't been filed) and sent automatically via check or direct deposit to qualifying individuals. To qualify for a payment, individuals generally must have a Social Security number and must not qualify as the dependent of another individual.
The amount of the recovery rebate is $1,200 ($2,400 if married filing a joint return) plus $500 for each qualifying child under age 17. Recovery rebates are phased out for those with adjusted gross income (AGI) exceeding $75,000 ($150,000 if married filing a joint return, $112,500 for those filing as head of household). For those with AGI exceeding the threshold amount, the allowable rebate is reduced by $5 for every $100 in income over the threshold.
Rebate Amounts and Phaseout Ranges
| | | | |
| --- | --- | --- | --- |
| Filing Status | Payment Amount | Phaseout Threshold | Phaseout Completed |
| Married Filing Jointly | $2,400 | $150,000 | $198,000 |
| + 1 Child | $2,900 | $150,000 | $208,000 |
| + 2 Children | $3,400 | $150,000 | $218,000 |
| Head of Household | $1,200 | $112,500 | $136,500 |
| + 1 Child | $1,700 | $112,500 | $146,500 |
| + 2 Children | $2,200 | $112,500 | $156,500 |
| All Others | $1,200 | $75,000 | $99,000 |
While details are still being worked out, the IRS will be coordinating with other federal agencies to facilitate payment determination and distribution. For example, eligible individuals collecting Social Security benefits may not need to file a tax return in order to receive a payment.
RETIREMENT PLAN PROVISIONS
Required minimum distributions (RMDs) from employer-sponsored retirement plans and IRAs will not apply for the 2020 calendar year; this includes any 2019 RMDs that would otherwise have to be taken in 2020
The 10% early-distribution penalty tax that would normally apply to distributions made prior to age 59½ (unless an exception applies) is waived for retirement plan distributions of up to $100,000 relating to the coronavirus; special re-contribution rules and income inclusion rules for tax purposes apply as well
Limits on loans from employer-sponsored retirement plans are expanded, with repayment delays provided
See additional details below
STUDENT LOANS
The legislation provides a six-month automatic payment suspension for any student loan held by the federal government; this six-month period ends on September 30, 2020
Under already existing rules, up to $5,250 in payments made by an employer under an education assistance program could be excluded from an employee's taxable income; this exclusion is expanded to include eligible student loan repayments an employer makes on an employee's behalf before January 1, 2021
BUSINESS RELIEF
An employee retention tax credit is now available to employers significantly impacted by the crisis and is applied to offset Social Security payroll taxes; the credit is equal to 50% of qualified wages up to a certain maximum
Employers may defer paying the employer portion of Social Security payroll taxes through the end of 2020 and may pay the deferred taxes over a two-year period of time; self-employed individuals are able to do the same
Net operating loss rules expanded
Deductibility of business interest expanded
Provisions relating to specified Small Business Administration (SBA) loans increase the federal government guarantee to 100% and allow small businesses to borrow up to $10 million and defer payments for six months to one year; self-employed individuals, independent contractors, and sole proprietors may qualify for loans
PRIOR LEGISLATIVE RELIEF PROVISIONS
Signed into law roughly two weeks prior to the CARES Act, the Families First Coronavirus Response Act (FFCRA) also included relief provisions worth noting:
Requirement that health plans cover COVID-19 testing at no cost to the patient
Requirement that employers with fewer than 500 employees generally must provide paid sick leave to employees affected by COVID-19 who meet certain criteria, and paid emergency family and medical leave in other circumstances
Payroll tax credits allowed for required sick leave as well as family and medical leave paid
______________________________________________________________________________
The Coronavirus Aid, Relief, and Economic Security (CARES) Act was signed into law on March 27, 2020. This $2 trillion emergency relief package represents a bipartisan effort to assist both individuals and businesses in the ongoing coronavirus pandemic and accompanying economic crisis. The CARES Act provisions for retirement plan relief for individuals under federal tax law are discussed here.
For those seeking access to their retirement funds, these include special provisions for coronavirus-related distributions and loans. For those seeking to preserve their retirement funds, certain required minimum distributions from retirement funds have been suspended.
CORONAVIRUS-RELATED DISTRIBUTIONS
A 10% penalty tax generally applies to distributions from an employer retirement plan or individual retirement account (IRA) before age 59½ unless an exception applies. Due to the coronavirus pandemic, the penalty tax will not apply to up to $100,000 of coronavirus-related distributions to an individual during 2020. Additionally, income resulting from a coronavirus-related distribution is spread over a three-year period for tax purposes unless an individual elects otherwise. Coronavirus-related distributions can also be paid back to an eligible retirement plan within three years of the day after the distribution was received.
WHAT DOES "CORONAVIRUS RELATED" MEAN?
For purposes of the distribution and loan rules described here, "coronavirus related" applies to individuals diagnosed with the illness or who have a spouse or dependent diagnosed with the illness, as well as individuals who experience adverse financial consequences as a result of the pandemic. Adverse financial consequences could include quarantines, furloughs, and business closings.
LOANS FROM QUALIFIED PLANS
Qualified plans such as a 401(k) can allow an employee to take out a loan. These loans can generally be repaid over a period of up to five years. They're also generally limited to the lesser of $50,000 or 50% of the total benefit the employee has a right to receive under the plan. However, for a coronavirus-related loan made between March 27, 2020, and September 22, 2020, the loan limit is increased to $100,000 or 100% of the amount the employee can rightfully receive under the plan (whichever amount is less). In the case of a loan outstanding after March 26, 2020, the due date for any repayment that would normally be due between March 27, 2020, and December 31, 2020, may be delayed by coronavirus-related qualifying individuals for one year, and the delay period is disregarded in determining the five-year period and the term of the loan.
MOST REQUIRED MINIMUM DISTRIBUTIONS (RMDS) SUSPENDED FOR 2020
RMDs are generally required to start from an employer retirement plan or IRA by April 1 of the year after the plan participant or IRA owner reaches age 70½ (age 72 for those who reach age 70½ after 2019). If an employee continues working after age 70½ (age 72 for those who reach age 70½ after 2019), RMDs from an employer retirement plan maintained by the current employer can be deferred until April 1 of the year after retirement. (RMDs are not required from a Roth IRA during the lifetime of the IRA owner.) RMDs are also generally required to beneficiaries after the death of the plan participant or IRA owner. A 50% penalty applies to an RMD that is not made.
The CARES Act suspends RMDs from IRAs and defined contribution plans (other than Section 457 plans for nongovernmental tax-exempt organizations) for 2020. This waiver includes any RMDs for 2019 with an April 1, 2020, required beginning date that were not taken in 2019. This one-year suspension does not generally affect how post-2020 RMDs are determined.
Prepared by Broadridge Investor Communication Solutions, Inc. Copyright 2020
Securities offered through Lincoln Investment, Broker/Dealer, Member FINRA / SIPC. www.lincolninvestment.com Advisory Services may be offered through Lincoln Investment or Capital Analysts, Registered Investment Advisers. Dearborn & Creggs and the above firms are independent and non-affiliated. Tax, legal, or Social Security claiming advice is not offered through, nor supervised by The Lincoln Investment Companies.
The information presented here is not specific to any individual's personal circumstances. To the extent that this material concerns tax matters, it is not intended or written to be used, and cannot be used, by a taxpayer for the purpose of avoiding penalties that may be imposed by law. Each taxpayer should seek independent advice from a tax professional based on his or her individual circumstances. These materials are provided for general information and educational purposes based upon publicly available information from sources believed to be reliable — we cannot assure the accuracy or completeness of these materials. The information in these materials may change at any time and without notice. Diversification or asset allocation do not guarantee a profit or protect against a loss.